How to Watch TV without Cable or Satellite
Add a header to begin generating the table of contents
For a lot of folks, the idea of learning how to watch tv without cable or satellite can feel a lot like deprivation. Who doesn't need a little mindless escape at the end of a long and tiring workday?
Unfortunately, as much as we feel like we deserve the break, the cost of cable can be a pretty bitter pill to swallow. Luckily, living below your means also doesn't mean we don't have to go without entertainment.
When you learn the basics of how to watch tv without cable or satellite, you'll find there are a ton of great alternatives to watch all of your favorite shows without the hefty bill. No more buying a crazy cable package just to get that one channel you love and 2395 others that you don't!
Save Almost $1000 a Year by Cutting Cable or Satellite
We cut cable about 3 years ago, much to my husband's dismay. I thought I'd never get him to go along with it. He was really worried that we'd never have anything to watch in the evenings.
Once we finally got rid of cable, we ended up coming to two rather big realizations:
1. Previously, we'd have the TV on just for background noise and distraction. Needless waste of electricity and mindless watching, really. We'd waste our time watching shows or reruns of things that we didn't even really like. Which is not only completely crazy, but really unproductive. We didn't realize just how much TV we watched that we weren't interested in until it was no longer around!
2. The alternatives to cable have a million things to watch as well, so we weren't being deprived of entertainment. We just shifted what we watched to what was available and what actually interested us.
While I was all for the savings, it was a bit of a struggle to get my husband on board. He was really worried about missing out on sports. Thankfully, once he learned how to watch tv without cable or satellite – and was still able to watch football – we haven't had to go back!
Now that you're ready to commit to getting rid of cable, here's step by step instructions on how to watch tv without cable or satellite. Luckily, it's easy enough that you don't need to hire a cord cutter tv service or figure out how to get free cable tv illegally.
What is the cheapest way to watch TV?
The absolute cheapest way to watch TV without cable or satellite is to get a digital antenna. This will give you access to local channels only, but is a one time low fee. Or, you can try without an antenna, but chances are it's going to be fuzzy and frustrating.
How can I get local channels without cable?
If you want to know how to get free tv channels without cable, then you'll want to grab a tv antenna so that you can can access local channels. While you might still be able to get tv reception without cable or an antenna, without a tv antenna, they're going to be fuzzy and not great. An antenna is the best way to local news and local sports broadcasts without internet, cable, or satellite as well.
If you're like me, when I hear "tv antenna" I picture the old rabbit ears that sit on top of the tv that you often added tinfoil to to get better reception. And then you had to fiddle with the damned things just to get a channel to come in right. Total pain in the butt. Luckily, that is not the case at all anymore (especially since no one's even used those kind for like….30+ years? ? )
Thankfully, times have changed and antenna technology has had a serious upgrade. It can be tempting to get the cheapest one possible, but really – even the really good ones are less than $30. This HD antenna / digital tuner from Amazon has tons of great ratings and is considered the best indoor tv antenna. It works really well for new and old TVs alike:
Free HD channels, including ABC, CBS, NBC, PBC, Fox, and more
Great quality and sound
Up to 80 miles range, meaning it can be placed just about anywhere in your home (or hometown, with a range like that, ha!)
18 foot long coaxial cable
USB power adapter
It's easy to hook up and use, and will get you all of your local channels so that you can watch local content and keep in touch with what's happening in your area. Check local channels, news, and sports off the list and let's move on to actual cable content. This digital indoor antenna beats any outdoor antenna and will provide access to all the major networks.
Can I watch TV with just Internet service?
Yes! You can easily watch TV and other streaming services with just internet service. The only way to watch tv without an internet connection or wifi is to use an antenna to watch local stations. So you'll need either internet or an antenna to be able to watch tv without cable or satellite.
Luckily, there are tons of great streaming options available to watch your favorite shows. Read on to learn how to watch tv without cable or satellite:
Streaming Services Options
Which of the following are channels and shows are important to have? Depending upon what you want to keep, you'll need to purchase different streaming services:
Local news and sports
Specific cable channels
Sports
Specific movie channels
It's also important to note how much you prefer to stream live tv versus prerecorded shows. Do you want to watch shows that aired this week? Or can you wait a couple of months to binging the entire season over a cold winter weekend?
I love that there are so many cord cutting options in 2023. Ten years ago, you didn't have much of anything to choose from, and now we have lots of great alternatives without needing a cable subscription.
Sling TV
This is one we looked into whenever we finally switched, and I have to say, I'm still considering getting it. Sling TV offers over 100 live channels to watch instantly, including ESPN, NFL Network, Disney Channel, AMC, Comedy Central, HGTV, TNT, TBS & more.
Sling TV lets you choose from 3 starter packages that have all the cable channels you love with none of the filler. Then, you can add on additional channels either a la carte or small, mini additions like Comedy which adds 8 more channels for an extra $5 a month.
Plus, Sling TV offers a Cloud DVR, which means for an extra $5 a month, you can record what you want when you're not able to watch it.
The starter packages are currently on sale and run from $15 – $25. When you sign up, there are no contracts and you can cancel online (which I love, because I hate calling to cancel things!). Sling TV offers several deals that allow new users to receive a free or discounted streaming device such as a Roku or Apple TV.
Pros:
You can pick your package based on what you want
Local channels are available
Huge variety in add-ons including Comedy, Premium, Sports, and more
They offer a Cloud DVR
Discounts on streaming devices
Relatively cheaper than the majority of live streaming services out there
They have international options
Cons: 
There's a chance you still won't get every single channel you want
The cost could add up pretty quickly, depending how many add-ons you want
Number of streams running at the same time is limited, depending upon package
YouTube TV
YouTube TV allows you to stream 60+ channels, including local channels and sports. With 6 individual logins per household, it'll be a quiet night without the kids fighting over what shows to watch. (For once.)
YouTube TV is surprisingly straightforward without a lot of addtional bells and whistles, but at $40 a month, I like that.
Pros:
Works with a variety of streaming devices
Receive notifcations when your show is on
Personalized DVRs
Cloud based DVR with unlimited space
Cons:
You can't choose your channels
Availability of channels can vary based on zip code
CBS Interactive
CBS Interactive isn't really well known, but it's growing in popularity quickly. We signed up for it for Thanksgiving, so my husband could follow his yearly tradition of watching The Lions get creamed during their annual Thanksgiving game. 😉
This live tv streaming service is almost a mix between Netflix and Sling TV. It has a surprising number of channels, including CBS, CBS Sports, C|Net, SportsLine, 24/7 sports, Gamespot, and lots more.
It's a great alternative to watch sports without purchasing a channel specifically for sports.
Pros:
Lots and lots of sports options to watch
Inexpensive and a great addition to a TV antenna
Original content available
Can watch tv live or pre-recorded
Cons:
Not as many channel options as other live streaming services
Get a free one week trial of CBS Interactive >
Best Pre-Recorded TV Streaming Services
Hulu
Hulu's come a long way since I first heard of them during the SuperBowl with that wacky commercial starring Alec Baldwin and some aliens. I remember thinking – who the heck is going to pay to watch live TV? (Hindsight, my friends, is 20/20…amiright?)
Watch Hulu online (Hulu.com on Mac or PC) and on Apple iOS, Apple TV (4th gen), Android, Chromecast, Echo Show, Fire tablets, Fire TV & Fire Stick, Roku, LG TV and Samsung TV (select models), Nintendo Switch, PlayStation 3 & 4, Xbox One and Xbox 360.
Pros:
Original content you can't find elsewhere
Watch current seasons without having to wait
HBO is available on Hulu, along with Cinemax, Showtime and Starz
2 packages to choose from, including an ad free option
Cons:
Not live TV, all pre-recorded streaming
No sports or local news options
Sign up for a free month of Hulu >
Amazon Prime Video
Chances are, you already have an Amazon Prime subscription. If not, one of the many perks (besides free shipping) includes Amazon Prime Video.
Amazon Prime Video offers original content, TV shows, and blockbuster movies. Some are covered with your subscription, others are available to rent or buy. Rather than running to RedBox and having to hurry back to avoid any rental fee, you can rent movies through Amazon Prime Video.
You can also add Prime Video Channels to your subscription, like Showtime, Starz and MLB.TV. It's an easy way to keep everything in one place.
Pros:
Ability to add premium movie channels, sports, and more
Everything in one place, so no switching apps
Prime members can also enjoy two-day shipping, unlimited photo storage and access to ad-free music and Kindle ebooks.
Any movies or TV shows you purchase are saved in your video library. They're accessible forever, unlike with other streaming services that don't allow you access your purchased content.
Watch anywhere by streaming on your computer, TV, gaming console, Fire TV, phones or tablets
Cons:
Doesn't provide individual accounts for your family members
Additional cost to add movie and sports channels; not all inclusive
Start your free 30 day trial of Amazon Prime Video >
Netflix
The original binge-worthy streaming service, Netflix is still my go-to for watching streaming content. This is how we cut the cord, and we still use Netflix as our primary resource for tv shows and movies. The price is cheap, the content is good, and I'm loving the original shows.
Pros:
Watch on smart TVs, Playstation, Xbox, Chromecast, Apple TV, Blu-ray players, and more
Download shows to watch on the go
Set up individual profiles so that your content doesn't mix with the kids
Lots of great original series
Cons:
Waiting for the newest season of your favorite shows
Some premium movie channel content is available, but not all (HBO)
Get your free 30 day trial of Netflix >
Next, you can stack additional channels if you want more.
While you're figuring out how to cut the cord, you don't have to find a package that covers everything. If you like one of the live tv streaming services, but you need to watch Game of Thrones (I feel ya), you can add additional services like HBO Now.
A quick rundown of additional options:
HBO Now: A stand-alone package that offers HBO without a cable subscription. Get your first month free. ($14.99/month)
Starz: If you can't live without Outlander, you grab a cable-free subscription for $8.99 a month.  Get a 7 day free trial here.
ESPN+: Features a selection of live games from MLB, MLS, Series A, FA Cup, EFL NHL, and Live UFC Fight Nights. Plus access to college sports. Only $4.99 a month, get a 7 day free trial here.
Streaming TV Services Devices
Now that you know which streaming services you want, the next step is to purchase hardware to stream your paid services. You can easily purchase them for relatively cheap to get you set up quickly.
These are the most common streaming devices used to watch streaming tv:
Amazon Fire Stick
The Amazon Fire Stick plugs directly into your TV through the HDMI input, and is a powerful 4K streaming media stick with a Wi-Fi antenna. With the Amazon Fire Stick, you can watch favorites from Netflix, Prime Video, Hulu, STARZ, SHOWTIME, or CBS All Access, plus stream for free with Pluto TV, IMDb Freedive, and others.
The Fire Stick also works with Alexa, so you can use your voice as a remote.
There are several options, including:
A little known fact is that you can
Roku Streaming Stick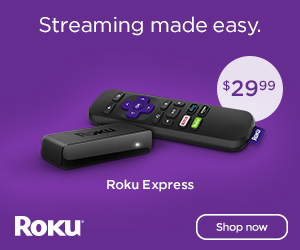 Again, this plugs directly into your TV and has a remote. It's very easy to use, and some models have a voice remote and search. There are tons of streaming services available. From movies and series on Netflix, Prime Video, HBO NOW and SHOWTIME to cable alternatives like Sling TV or YouTube TV to live sports and news on CBS News, ABC News and ESPN.
This is great to take on the go on vacation, business trips, or movie night at a friend's. One remote works for both Roku and TV, which helps cut the clutter! Learn more about Roku here >
Google Chromecast
This one's a little different – you can stream from your phone or table to your TV using Google Chromecast. You use your streaming apps on your phone, and Chromecast broadcasts the stream to your TV.
This works with streaming apps you know and love and is voice activated. Enjoy your favorite TV shows, movies, videos, songs, games, sports and more from over 2000 apps like Netflix, YouTube, YouTube TV, and HBO NOW. Learn more about Google Chromecast >
Smart TVs
The next option up is to purchase a smart TV. The Insignia Smart LED TV is an example of a TV that can stream live shows. TVs like this essentially have the Fire Stick already built in, so you're not purchasing a separate piece. This works well if you find a great deal or are in need or a new TV anyway.
With the Fire TV experience built-in, enjoy tens of thousands of channels, apps, and Alexa skills, including Netflix, Prime Video, Hulu, HBO, SHOWTIME, STARZ, and more. You can learn more about Smart TVs here >
Gaming Consoles
There are some other devices that are mutl-use and more expensive. You can use gaming consoles like Playstation or Xbox One to stream content as well. Currently, we use our Xbox One to stream.
By installing different apps, we're able to watch different streaming options like Netflix, Hulu, CBS Interactive, and more.
Getting Free Internet
Along with cutting the cord on cable, we should talk about internet. It's not cheap, and the average family spends at least $70 a month on a basic plan. If you're looking to save money by cutting cable, it makes sense to look into cutting your internet costs as well.
There are some easy ways to cut the cost of internet – without giving up quality. Learn more about how to get free internet here.
What is the best option for TV without cable?
Keep in mind that there's no best cord cutting setup out there, mostly because what you want is going to differ from what someone else wants. The channels you want to watch are going to affect which streaming device you go with. The good news is – you can mix and match services to meet your tv watching needs as well as your budget!
Now you know which options best fit your needs, you can create a great setup that helps you to cut the cable and watch tv for free (or close to free, anyway!). Now that you know what's available, you can now save a ton by cutting the cord and getting rid of cable for good!
Interested in learning more ways to save? Check out these frugal living tips with a big impact and 12 simple ways to save money on a tight budget.
Now that you know how to watch tv without cable or satellite, let me know which services you've decided to try in the comments below!
A forty-ish web designer/developer by day, a budget & financial fanatic by night. I'm a mom, wife, avid reader, and DIY enthusiast who's tracking our journey to debt freedom. Read More
One of the most fun aspects of getting married is picking out wedding rings as a couple. However, the hefty price tag with both wedding ...