Arcadia Power Review: 2021 Guide to Clean Energy
Add a header to begin generating the table of contents
If you've been reading this blog for a while, by now you should know that I'm all about saving money. I love the feeling that I get when I find out that I scored some major savings on something. Saving money is awesome in my book!
But, do you know what else I love saving? My carbon footprint. So, when I discovered Arcadia Power, an energy broker that has the mission of making renewable wind energy accessible to everyone, I was stoked. And, since I currently use Arcadia, I thought I'd dedicate this post to an Arcadia Power review as well as look into some Arcadia reviews from some of their other customers.
What Is Arcadia?
Arcadia Power is essentially an energy company broker/utility bill management platform that supports clean, renewable energy sources, mostly wind energy.
Arcadia Power allows their customers to reduce their carbon footprints. In fact, according to their website, the average Arcadia member cancels out the equivalent of 712 pounds of coal per month! That's amazing! And, depending on which power company you have, sometimes Arcadia can even help you save money on your monthly energy bill. It's a total win-win!
According to Arcadia, currently only about 17% of the US power grid is clean energy. Their goal is to increase that percentage.
How Does Arcadia Work?
One thing I want to set straight, because it often causes some confusion for people scoping out Arcadia, is the fact that Arcadia Power isn't actually an energy supplier. They do not sell or produce electricity. So, when you sign up with them, you don't actually get renewable energy from Arcadia itself, and you aren't replacing your existing energy company with them.
I know this is super confusing, so stick with me. I'm going to break it all down for ya.
Okay, so because all energy sources are essentially pushed to the same power grid and are mixed together before they are distributed to your home via a powerline, Arcadia isn't able to send renewal energy directly to your house. So, you can't use them as your electric/energy supplier. But, when you sign up with Arcadia, you are still investing in green energy because they provide clean wind energy to your current electric company. Make sense?
Okay, so now that I got that out of the way, let's dig in and talk a little bit about how Arcadia Power works.
Like I mentioned earlier, Arcadia functions as an energy company broker/utility bill management platform, not an energy/electric supplier. So, when you sign up with them, they connect to your current energy account via your supplier, and you pay Arcadia for your electric bill each month. And, then Arcadia turns around and pays your electric company on your behalf.
Now, here is where the clean energy part comes in. Arcadia verifies how much energy you are using each month. Then, depending on which membership option you have, Arcadia then "sources, verifies, purchases and retires the corresponding number of wind RECs" and credits them to your electric company.
Does that make sense? I know it's a lot to digest.
Step-By-Step Directions on How Arcadia Works
Just to simplify things, here's a step-by-step breakdown on how it all works:
1. The first thing you do is head here and enter your zip code and electric provider to see what's available in your area. It all depends on:
Where you live
What electric provider you currently have
The number of wind farms in your area
Any other clean renewable energy projects in your area
2. Once you plug in your info, Arcadia will show you what your options are. This is what a friend of mine's screen looked like after she plugged in her info:
3. You select the plan option that they have available for you and click "continue."
4. You connect your energy provider account to your Arcadia account.
5. Arcadia then takes over the management of your electric account. You pay Arcadia what you owe your electric provider each month plus whatever your Arcadia membership fee costs. Mine is $5 a month. And, then Arcadia pays your electric provider on your behalf.
6. Depending on the plan you have, Arcadia matches a certain percentage of your energy usage with clean wind energy. For instance, I have the Regular plan, so Arcadia will match 50% of the energy I use each month with clean wind energy by giving my energy provider access to green energy through the use of Renewable Energy Credits (RECs).
Arcadia created a nifty little video explaining their process. Check it out! I found it to be quite helpful.
Arcadia's Membership Options
Arcadia offers two different membership options:
The Regular Plan (This is the one I have. It's $5 a month.)
The Basic Plan
Arcadia's Basic Plan
The Basic plan matches 100% of the energy you use with clean wind energy. It costs 1.5¢ per kWh. Arcadia claims that on average the Basic plan costs about $10 a month. It all depends on your monthly energy usage. I do want to point out that the Basic plan is only available for select members.
Arcadia's Regular Plan
The Regular plan is $5 a month, and it matches 50% of the energy you use each month with clean wind energy.
What Are RECs?
According to Arcadia's website, Renewable Energy Credits (or RECs) were "specifically created to track clean and renewable energy as it moves through our power grid." Basically, "anytime a company or an individual claims to be using renewable energy, they are really using RECs." Click here to learn more about RECs and how they work.
Arcadia's Subscription Energy Program
Arcadia now offers a Subscription Energy program for select members that allows you to pay the same set amount every month for your utility charges. It analyzes your utility bills from the previous year, and then comes up with a monthly amount based on your average. This bill amount will be set for the next 12 months. The Subscription Energy program also includes a free 100% wind energy match. This is a great option for those of you on a budget as it allows you to have a predictable bill each month. Pricing for the Subscription Energy program varies depending on where you live and your current energy provider.
Arcadia's Community Solar program
Arcadia also has a Community Solar Program that allows you all of the benefits of using solar power without having to actually install panels on your home.
You buy "remote" solar panels through Arcadia for an upfront fee. The more you buy, the more you will end up saving. After you purchase your panels, you will get a monthly solar credit applied to your Arcadia bill according to the energy production of your panel or panels. Like the Wind Energy program, the pricing of solar panels varies depending on your location and current electric company. I also want to make you aware that in order to sign up for the Community Solar program, you have to currently be enrolled in the Wind Energy program.
Do You Save Money Using Arcadia Power?
It really depends. Eligibility for savings varies by state and by utility company. If you're a member of the Sm bnart Rate program, Arcadia will scour the energy market to find you the lowest rate possible. Personally, I have saved a little extra cash by using Arcadia. But, with my $5 monthly fee, I come out actually paying a little more per month. But, I'm okay with that because I feel like I'm doing something great for the environment.
Here's a glimpse of my savings just in case you're curious:
Arcadia's Referral Program
Arcadia offers a pretty good referral program. Every time someone signs up with Arcadia Power using your referral link, you'll both get a $10 credit applied to your accounts. And, if you get 10 people to sign up using your referral link, you'll get $1000!
How Do I Cancel Arcadia Power?
Arcadia provides detailed instructions on their website for cancelling their service. Basically, you can either email them at support@arcadia.com or give them a call at (866) 526-0083 between 9:00 am and 5:00 pm EST, Monday through Friday. It's completely free to cancel. However, if you are enrolled in the Community Solar Program, it can take anywhere from 90 to 190 days to process your cancellation.
Is Arcadia Power A Legitimate Company?
As an avid user of Arcadia, I can honestly say that it is completely legitimate, and I'm a huge fan. But, like I said, you don't always save money by using them. But, isn't reducing your carbon footprint well worth it? I think it is.
Is Arcadia Safe?
According to Arcadia's website, they take security and privacy very seriously, and they offer bank-level security with PCI-DSS compliance when it comes to payment processing. So, yes, they keep your sensitive information safe.
My Arcadia Power Review
Yes, I'm an Arcadia customer, but I also want to provide my readers with all the facts. So, I did a little digging and researched some Arcadia Power reviews from other customers.
My first stop was the Better Business Bureau, where I was shocked to find that Arcadia had several not-so-favorable reviews. It has a 3.12 out of 5-star rating and about 50 posted reviews.
Some of the pros of Arcadia I saw posted, include:
They have a nice mobile app.
The platform's interface is easy to use.
Their customer service representatives are nice and helpful.
They offer energy efficiency tips.
You can potentially save money.
Some of the cons of Arcadia I saw posted, include:
It takes a while to process a cancellation.
It's hard to get a live person when you call their customer service number.
They can sell your account to another electric provider without your consent.
Like I said, I really like Arcadia, and I have never had a problem with them. And, one of my friends recently contacted their customer service team to ask a few questions, and she didn't have a problem getting connected to a live person. So, I'm not sure what to think about these negative reviews.
One thing I thought was pretty cool is that Arcadia actually replied to almost every single person who posted a negative Arcadia Power review. And in each response, someone from the company offered to personally speak to the negative reviewer. I think that says a lot about Arcadia and that they truly value their customers and want to make any bad experiences right.
Trustpilot Arcadia Power Review
There are tons of positive reviews of Arcadia Power on Trustpilot. And, they currently have a 4.8 out of 5-star rating. The main complaints were about the customer service team, how long the cancellation process takes, and that people thought they were paying more with Arcadia than with their electric company. But, a whopping 92% of the Arcadia Power reviews were positive with a 5-star rating. That's pretty good if you ask me.
Arcadia's Customer Service Contact Information
Since some of the Better Business Reviewers mentioned that finding the contact information for Arcadia is difficult, I thought I'd list it here just so you have it.
The Arcadia customer service team is available weekdays from 9:00 am to 5:00 pm EST. Just give them a call at 866-526-0083. You can also email them at support@arcadia.com.
Interested In Signing Up For Arcadia?
If you'd like to try out Arcadia Power, feel free to use my referral link to sign up. We'll both get $10 credits!
Other Money-Saving Ideas
Looking for some other ways to save money? I'm full of ideas! Check out these past posts:
12 Simple Ways To Save Money On A Tight Budget
Ask Trim Review: How We Saved $240 In Minutes
The 18 Best Cash Back Apps That Will Save You Thousands
$1000 Savings Challenge With Free Printables
Are you a past or present user of Arcadia Power? I'd love to hear your Arcadia Power review. Just comment below.
A forty-ish web designer/developer by day, a budget & financial fanatic by night. I'm a mom, wife, avid reader, and DIY enthusiast who's tracking our journey to debt freedom. Read More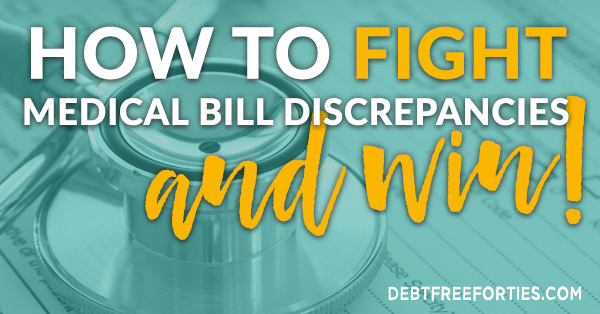 Medical bills are unfortunately a part of our life, no matter your plan, coverage or deductible. Whether you've just had a checkup, a baby - ...